North Dakota Tribe Buys Enbridge Pipeline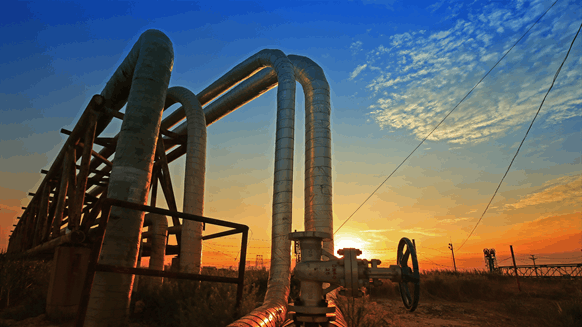 The MHA Nation will buy the Plaza/Wabek Pipeline from Enbridge for $5 million.
Image by pandemin via iStock
The Mandan, Hidatsa, and Arikara (MHA) Nation, a Native American tribe in North Dakota, will buy the Plaza/Wabek Pipeline from Enbridge for $5 million, the energy company said.
The Plaza/Wabek Pipeline, a six-inch-diameter oil pipeline measuring 31 miles from a gathering system in the Plaza/Wabek fields to Enbridge's terminal in Stanley, North Dakota, will connect the oil output of the Fort Berthold Reservation to the Enbridge pipeline network. The line has a transport capacity of 15,000 barrels per day, Enbridge said.
The MHA Nation, which has over 17,000 enrolled members, operates an energy division that includes oil production and processing. The purchase was made through the MHA Nation's subsidiary Thunder Butte Petroleum Services Inc. and will make the MHA Nation the first tribal shipper on the Enbridge system, according to an Enbridge news release Friday.
Fort Berthold Output
According to the latest report from the North Dakota Department of Mineral Resources, the Fort Berthold Reservation has 2,641 active wells totaling 144,190 barrels of oil per day. Potential future oil and gas wells in the area could reach 3,911, the regulator said.
The pipeline purchase is "another major step and positive investment that will further support development of our energy trust assets for the MHA Nation and its membership", MHA Nation Chairman Mark Fox said. "This will also be a significant catalyst for enhancing economic development in our region of influence."
"The Enbridge purchase is a positive step to providing Thunder Butte Petroleum Services an asset that will lead to economic self-sufficiency, and a future revenue source for the MHA Nation", Thunder Butte Petroleum CEO Bernie Fox said in the news release.
According to its company website, Enbridge operates the world's longest and most complex liquids transportation system, with about 17,800 miles of active pipe across North America, and delivers more than three million barrels a day.
"This is a major step towards connecting MHA Nation to new markets and industry partnerships", Mike Koby, Enbridge's Vice President of U.S. Liquids Pipelines Operations, said.
Enbridge said economic inclusion and partnerships with tribes are part of its plans in the regions where the company operates. In September 2022, Athabasca Indigenous Investments saw 23 First Nation and Métis acquire an 11.57 percent interest in seven Enbridge-operated pipelines in northern Alberta, which was the largest energy-related Indigenous economic partnership transaction in North America to date, the company said.
North Dakota Oil and Gas Sector
In a separate news release from the North Dakota Department of Natural Resources, the regulator said the state's oil and gas industry remains a "powerhouse" for its economy, accounting for more than $42.6 billion in gross business volume, nearly 50,000 jobs and $3.8 billion in state and local tax revenues in 2021. The state's oil and gas industry has learned how to maintain production through efficiencies despite the COVID-19 pandemic, and most of the industry's key economic metrics are at or near pre-COVID levels, the report said.
"The oil and natural gas industry continues to be a game-changer for North Dakota", North Dakota Governor Doug Burgum said in the report. "Taxes and royalties paid by the industry support our state's significant investments in infrastructure, schools, communities, tax relief and the Legacy Fund, among other areas. The industry's resiliency in the face of challenges such as the pandemic, extreme weather, volatile prices and misguided federal policies, demonstrates that it will continue to play a critically important role in North Dakota's economy for generations to come", Burgum said.
To contact the author, email rteodoro.editor@outlook.com
What do you think? We'd love to hear from you, join the conversation on the Rigzone Energy Network.

The Rigzone Energy Network is a new social experience created for you and all energy professionals to Speak Up about our industry, share knowledge, connect with peers and industry insiders and engage in a professional community that will empower your career in energy.